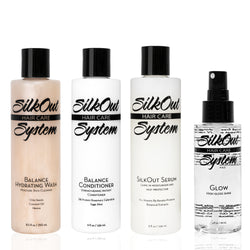 SilkOut Hair Care System
Silk Press Bundle (Bonus Flexi Brush)
The ultimate in care and protection for your silk press.
8oz Balance Wash and Balance Conditioner  (Prepare)
8oz SilkOut Serum (Protect)
4oz Glow (Oil Free Shine and UV protector)
Silk Press Guidelines
Step 1 -Balance Wash gently moisture cleanse.  
Step 2 -Balance Conditioner instantly softens and closes cuticle.
Step 3 -SilkOut Serum for protection and seal cuticle and section and Blowdry (BlowOut Brush) and Flat Iron
Step 4- Finish with Glow for added shine and UV protection.